Posted on August 04, 2021
Run Dev Environments with 30+ Microservices - monday.com
We love talking about Okteto, but it's always great to hear what customers who are using Okteto in their daily work have to say. That's why we were so excited to read the article by Lior Rabin about how monday.com uses Okteto with their engineering team: Development environments in the cloud.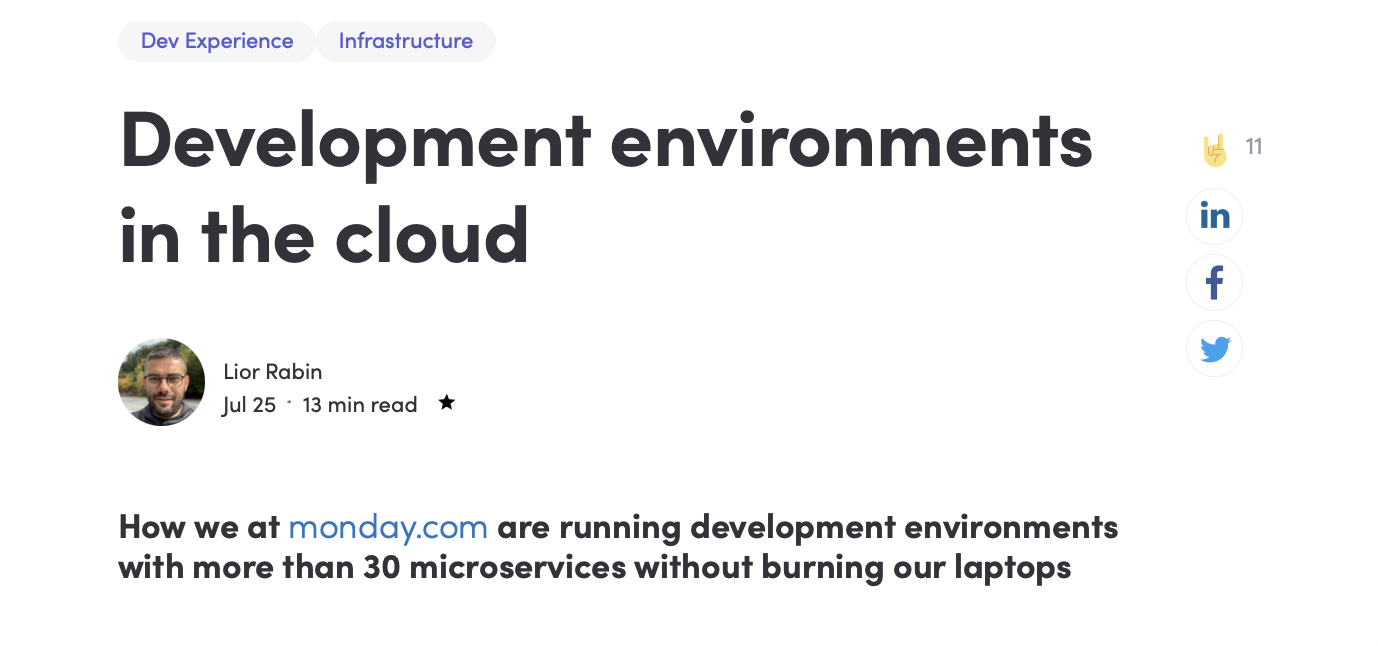 Improving collaboration
Monday.com is "building a simple and intuitive WorkOS to connect teams around the world to their workplace processes while improving collaboration and communication along the way."
The engineering team at monday.com uses Okteto to run development environments with over 30 microservices. Those of you who have worked with similar applications know that this not only slows down your machine and burns your laptop, but it takes a lot of time setting up the right configuration and making sure it works for each person on the team.
Code faster and use your own tools
"This new solution needed to be easy to set up in a replicable way, be as similar as possible to our production environment in terms of structure and technologies, have a fast inner-loop workflow, and last but not least, not kill our laptops 🙂"
That's why we created Okteto. We wanted to give developers the ability to code faster by creating a dev platform powered by Kubernetes that allows them to use their favorite IDE and the tools they already enjoy working with, and that is as realistic to their production environment as possible.
Knowing that customers such as monday.com are experiencing a positive developer experience, have increased their productivity, and that they love using Okteto daily is why we do what we do!
We'd love for you to check out the article on their engineering blog!